SAVE Crestal enables safe sinus lifting using specially designed reamer.

Surgical Procedure
SAVE Crestal is especially desinged for DENTIS Implant. Use the matrix below to prepare for surgery and
just make it simple.

※ DENTIS surgical drills are used based on bone density and the height of residual bone after the reamer drill.
SD-reamer
To use for perforation of sinus wall.
its conical design helps safe membrane lifting at drilling.
Recommended 800-1200RPM.

Stopper
It helps over perforation (3-12mm)

Guide Drill
It forms guide hole making accurate point before using reamer.

Diamond Reamer
It is used to cleanse residual soft tissues after extraction.
It also can be initial guide when bone is thin.
(residual bone is too close to membrane)
Recommended 800-1200rpm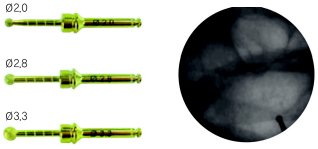 Sensor Gauge
Check if siuns is perforated

Depth Gauge
It is to use to measure depth of drilled hole
Bone Syringe
It is used to scoop ground bone and graft

Bone Packer
It is to push bone material into sinus